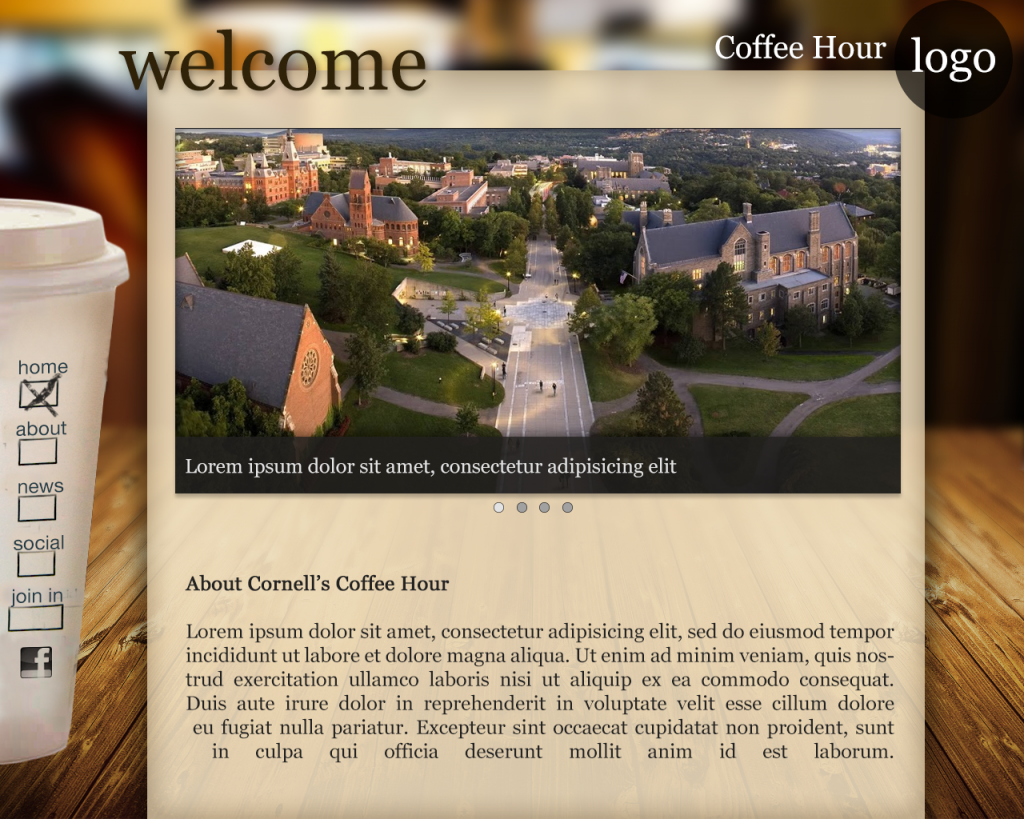 [Note: Post updated on August 2013 to reflect the club's close.]
Cornell University's INFO 2300: Intermediate Web Design course offers as much to students in its class as it does to those outside of the course thanks to the unique nature of the course's final project. For the final project, students are split into groups of four and then are tasked with helping one of Cornell's many clubs create a website.
Teamed up with a student interested in databases and one interested in front-end implementation – be began to search for a group to help. In not much time, we stumbled upon a truly important campus group called "Coffee Hour." This unique club offers students a chance to meet and make new friends over coffee. No pretense. No membership fees. Just coffee!
We fell in love with the idea instantly and were happy to work with this group to create a prototype website for the (now defunct) club.
Once again filling the role of designer and front-end developer, I began work on a more experimental interface. Forgoing the usual navigation bars for a more quirky experience that fit the warmth and non-mainstream traits of the club, I decided on creating a coffee house setting (original, right?) which would "house" the content in a pleasing and simplistic manner.
Using HTML, CSS, PHP, and jQuery we were able to realize my designs rapidly and produce a remarkable prototype. The final site prototype not only fit well the needs of the club, but also impressed our professors – especially given the small time frame within which we worked.
Although the site is now offline due to the club's closure at the end of the 2012-2013 school year, I have hosted a stripped-down version of the site here:
Additionally, be sure to check out the following gallery of screenshots from my concept mock-ups that demonstrate the design choices and features of our website: